Common Problems and Countermeasures of Plastic Granulation Modification Processing(5)
Views:12 Author:Vera Publish Time: 2017-07-07 Origin:Site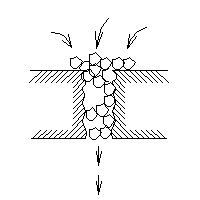 Bridge phenomenon in hopper
One reason is too many fillers, moisture absorption, agglomeration, resulting in increased friction between the mixture and the hopper wall. Add "white oil" or other liquid lubricants, reducing the friction between the mixture and the hopper wall and ohter mixture, can solve the bridging phenomenon;
Another reason is agglomeration of the mixture (by high temperature or adding to much liquid additives). Reduce the drying temperature or high mixing time, reduce the amount of liquid additives, add powder resin or additives (such as, high rubber powder, AS powder, PP powder, etc.) that with the absorption of oil materials, can solve the bridging phenomenon.
Bridge phenomenon in feeding
Mainly because too low melting point of some processing aids and too high temperature of the first and second zone, material softened in the feeding silo and adhered on the wall of equipment, resulting in subsequent feeding difficulties. Properly reducing the processing temperature of the first and the second zone, can solve the bridge phenomenon.