Composite Strengthening of PP with Crystal Whisker and Talc Powder
Views:14 Author:Vera Publish Time: 2019-03-04 Origin:Site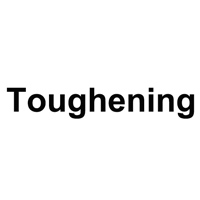 Generally, the whisker is single crystal structure with small size, its microstructure is needle-like or fibrous, and its L/D is relatively large. When the whisker is mixed with PP, it can change the crystallization behavior of PP, and has obvious strengthening effect.
Talc powder is one of the most common fillers for PP materials. The addition of talc powder can enhance the material and reduce the production cost.
Research institutes in Beijing use basic magnesium sulfate whiskers and talc powder to enhance PP, and produced PP composites with high dimensional stability and high mechanical properties.
Formula
PP matrix 64%;
High impact copolymer PP 10%;
Ethylene-propylene-octene copolymer (POE) 5%;
Basic magnesium sulfate whisker 15%;
Talc powder 5%;
Antioxidant 1010 0.1%;
Antioxidant 168 0.2%;
Ethylenebisstearamide (EBS) 0.5%;
calcium stearate 0.2%.
Note: all above are mass fraction.
Process:
Except from whiskers, the rest of the raw materials are mixed in a high-speed mixer for 5 minutes, and then added to the main feeder of the extruder.
To ensure the ratio of length to diameter of whiskers, whiskers are added from the side feeder of the extruder to granulate.
The temperature of the extruder from the main feeder to the diehead of the extruder is 180 ℃-210 ℃.
Characteristic
Under this formula, the melt flow rate of PP composites is 29.4g / 10min, density 1.01g / cm 3. The tensile strength, bending strength and flexural elastic modulus are 23.7, 31.4 and 2576 MPA, respectively. The modulus of the composite was 34.5% higher than that of the composite with only 20% talc powder. The notched impact strength is 28.5kJ / m2, which is 22.3% higher than that of the composite with only 20% talc powder. The Rockwell hardness is 68.
Under this formula, the linear expansion coefficient of PP composites is 63.1% lower than that of pure PP, and the molding shrinkage is 0.48%, which is close to or lower than that of some engineering plastics (for example, the shrinkage rate of polyamide 6 is 0.6%-0.8%, the shrinkage of polycarbonate is 0.5% -0.7%), which can significantly improve the warpage, demoulding or assembly problems of injection molded parts.