Features of Liquid Loss-in-Weight Feeder
Views:5 Author:Vera Publish Time: 2018-09-06 Origin:Site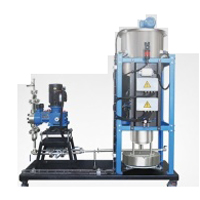 1.The storage tank has a level switch to directly monitor the level of internal liquid.
2.With its unique design, material can be conveyed stably under the high pressure.
3.Our products are known for solid construction, low failure rate and easy to operate.
4.Depending on the needs of the application, multiple power conveying ways and operation solutions can be supplied.
5.Heating device, motors and mechanical structure have the explosion-proof applications.
6.The heating mode includes electricity, water and oil heating.
7.Adoption of top-quality insulating materials and highly air-proof design can avoid unnecessary loss of energy. Feed accuracy can reach ±0.5%.