How to Chose a Suitable Cold mixer
Views:4 Author:Vera Publish Time: 2018-01-15 Origin:Site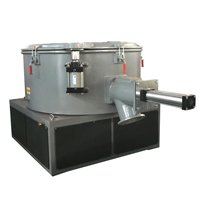 There are two types of cold mixer used at present: vertical cold mixer and horizontal cold mixer.
Generally speaking, when the capacity of high speed mixer is more than 500L, the horizontal type should be chosen for cold mixing. On the contrary, vertical type.
Vertical cold mixing machine is mainly suitable for small mixing unit: its price is low, the cooling function is mainly completed by the bottom of the pot.
For large mixing unit, horizontal cold mixer is better.
Haisi Extrusion supply superlative twin screw extruder product, as well as all kinds of plastic mixing machine, including high speed mixer, vertical mixer, cold mixer, color mixer, horizontal mixer and others. Any interest please contact us.