Introduction of Horizontal Mixer
Views:16 Author:Vera Publish Time: 2018-09-12 Origin:Site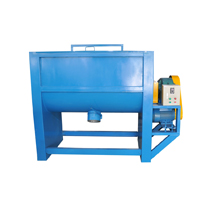 Functions of horizontal mixer:
1. Suitable for mixing large amount of plastic granules, powder, new materials, old materials, additives;
2. Single-layer barrel wall with stirring function, double-layer can be heated.
3. Often used for stirring and drying of PVC,TPR,TPE,PP,PE and other plastic granules.
4. Double oil heating, the temperature can reach 80-300℃.
5. Screw feeder can be added to facilitate operation.
Description of horizontal mixer machine:
1. All stainless steel made of barrel and mixing blade, easy to clean and avoid corrosion.
2. Cycloidal needle wheel reducer with long life, low noise.
3. Special designed protection door is easy for equipment maintenance, and the specially equipped ladder makes feeding more convenient.
4. Two-way S-shaped screw blade makes mixing quickly and evenly.
5. The visible window on the top is easy to observe the mixing situation.
6. Timer with 0-30 minutes timing mixing.
7. The mixture can dry the material at the same time.
Features of horizontal mixer:
1. Stainless steel is used in the contact part of the barrel and raw material, no dead angle of aggregate, easy cleaning and no pollution.
2. Super-wide stainless steel "S" -shape blade to ensure rapid and uniform stirring.
3. Timer can set mixing time, complete uniform mixing in short time with low energy consumption and high efficiency.
4. The imported motor and the import reducer are the guarantee of the smooth start of the machine.
5. Multiple protection devices to ensure the safety of the machine operator.
6. The heating of oil temperature can be customized to achieve the purpose of mixed drying and save investment.