Modification of recycled PC/ABS material
Views:7 Author:Vera Publish Time: 2017-09-13 Origin:Site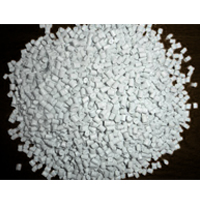 Modification of recycled PC/ABS material
(1) The higher the processing temperature of the recycled ABS casing material, the poorer the performance, the lower temperature should be chosen as far as possible in the processing.
(2) Adding toughening agent in the recycled PC/ ABS casing material can obviously improve the toughness of the recycled material. Moreover, adding the EM500 with increasing capacity is more obvious than the HR181 toughening effect, and after adding 5% EM500, the comprehensive mechanical properties are the best, but the flame retardancy after adding toughening agent is worse.
(3) Adding flame retardants can effectively improve the flame retardancy of recycled material, and the flame retardant effect of decabromodiphenyl ethane is better than that of acid ester flame retardants. When decabromodiphenyl ethane with mass fraction 5% is added, the PC/ABS recycled material has the best performance and the notch impact strength is 10. 9 kj/m2, also can reach 1.6 mm UL94 v–0 level.

Haisi extrusion supply twin screw extruder for PC/ABS modification and recycle. Any interest please contact us.