PC/ABS Alloy - Important Automotive Plastic
Views:63 Author:Vera Publish Time: 2017-07-31 Origin:Site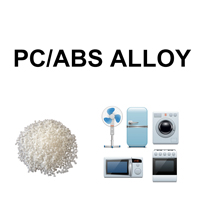 Overview of PC / ABS
PC / ABS, polycarbonate and acrylonitrile-butadiene-styrene copolymers are thermoplastic plastics made from polycarbonate (PC) and polyacrylonitrile (ABS) alloys, combining the excellent properties of the two materials: the formability of ABS material, and the mechanical properties, the resistance to the high temperature and ultraviolet (UV) of PC material.
Material performance characteristics
PC / ABS plastic properties
1, the overall performance is better, high impact strength, good chemical stability, and good electrical performance;
2, good weldability with plexiglass , can be made to two-color plastic parts, and can be chrome-plated and paint treatment on the surface;
3, with different levels such as high impact, high heat resistance, flame retardant, enhanced, transparent and other;
4, less mobility than HIPS, but better than the PMMA, PC, etc. good flexibility.
Materials applications
1, car interior and exterior: dashboard, decorated column, instrument front cover, grille, inside trim and outside trim;
2, business equipment chassis and built-in components: notebook / desktop computers, copiers, printers, plotters, monitors;
3, telecommunications, mobile phone shell, accessories and smart card (SIM card);
4, electrical products, electronic products shell, meter cover and shell, home switches, plugs and sockets, cable and wire;
5, household appliances, such as inside and outside parts of washing machines, hair dryer, microwave and others .

Haisi extrusion supply high quality and specialy designed twin screw extruder machine for making PC/ABS, modified PC/ABS extruder, enhanced PC/ABS granulator for automotive, home appliances making. Any interest please feel free to contact us!