Stainless Steel Plastic Granules Color Pigment Powder Mixing Machine
Views:26 Author:Vera Publish Time: 2018-06-22 Origin:Site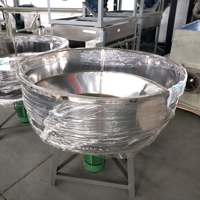 Advantages:
1. Cycloid reducer rotation ensures stable running and low noise.
2. Well-designed stirring blades can effectively tumbling, spreading and convection mixing.
3. The trapezoidal base has a large area of ground contact, with low center of gravity, and smooth operation.
4. Mixing bucket and stirring leaves are made of stainless steel, which is smooth and clean.