TPE Earphone Wire Material is the Development Direction of Wire and Cable Products
Views:8 Author:Vera Publish Time: 2018-04-27 Origin:Site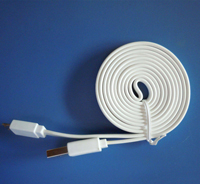 At present, main earphone wire material includ TPE, PVC, PU, hollow wire, and cloth wire.
The requirements for each material are also different. Tests show that the TPE wire is three times more resilient than an ordinary headset wire, so that the headphone wire is not often entangled.
TPE headphones are 2. 5 times more resistant to low temperature than normal headphones, and won't be inconvenient to wear in winter when the headphones are frozen. The international high-end brand headphones mostly use TPE earphone material to manufacture high elasticity anti-freeze wire, so we can see that TPE wire is the best in earphone wire material at present.
For consumers, TPE / TPR thermoplastic elastomer wires have soft tactile, high elasticity, mild texture, adjustable surface gloss and fog brightness, low smoke and no halogen, no phosphorus, excellent oil resistance, weather resistance, aging resistance, flexural resistance, Ozone resistance and other chemical properties; high added value is the biggest advantage of TPE earphone materials.
When selecting resin, upstream manufacturers should require that the flame retardant system and all components of the material do not contain halogen elements such as F, Cl, Br, I, and heavy metals such as Cr, Cd, Hg, Pb, etc., to meet the requirements of Europe and the United States environmental protection and low toxicity by means of RoHS PAHs, REACH standard. In the process of production, the TPE extruding line speed is fast, the performance is smooth and smooth, the waste produced in the production process is easy to be recycled and the final waste products are easy to recycle and reduce the cost.
Used TPE can be recycled, reduce environmental pollution, expand the source of renewable resources, reduce the volume cost of products, and at the same time produce data wire, video wire, medical wire and high-voltage cables, special wire and cable, outer coating and plug material, wire cable sheath, mobile phone charger wire, computer arrangement wire, socket switch USB cable, antenna, audio and video cable, game wire, mouse cable, computer arrangement wire, connection wire, diving wire, wire joints, and flexible wires.
For TPE granules making for wire and cable material, please feel free to contact us!