What are the advantages and disadvantages of nylon glass fiber reinforced modification?
Views:72 Author:Vera Publish Time: 2019-05-24 Origin:Site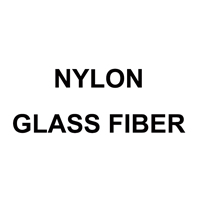 Advantages of glass fiber reinforced nylon
1. After adding glass fiber to nylon, the mechanical properties, heat resistance, dimensional stability and aging resistance of modified nylon were improved obviously, and the fatigue strength of modified nylon was 2.5 times higher than that of unenhanced nylon.
2. Because of the addition of glass fiber, the movement of polymer chains of plastics is limited, so the shrinkage of reinforced plastics decreases a lot, that is to say, the shrinkage phenomenon of reinforced plastics is much better than that before adding glass fiber, and the rigidity is also greatly improved.
3. Glass fiber reinforced nylon has high softening point, low friction coefficient, wear resistance, self-lubricity, shock absorption, silencing, good electrical insulation, oil resistance, weak acid resistance, alkali resistance and general solvent, self-extinguishing, non-toxic, odorless, weather resistance.
4. After fiber reinforcement, nylon can reduce the water absorption of nylon chips, so that it can work in high temperature and high humidity environment.
Shortcomings of glass fiber reinforced nylon
1. The toughness decreases and brittleness increases. This can be improved by adding flexibilizer.
2. Due to the orientation of the glass fiber in the flow direction during the injection molding process, the mechanical property and the shrinkage rate are enhanced in the orientation direction, so that the product is deformed and warped.
3. In the process of injection molding, glass fiber enters the surface of plastic products, making the surface of the product become very rough, speckled, such as floating fiber and other defects.
4. The larger the proportion of glass fiber is, the greater the wear of the plastic elements of the injection molding machine is, mainly the wear of the screw.
5. Liquidity will be reduced.