Polycarbonate (PC)/ ABS alloy
Views:16 Author:Vera Publish Time: 2019-02-27 Origin:Site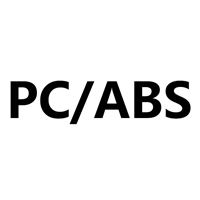 In order to overcome the shortcomings of ABS, polycarbonate (PC) was blended with ABS to produce PC/ABS alloy. The mass ratio of PC/ABS is 70/30. This ratio takes into account the influence of thickness, temperature and other factors on impact properties. The alloy combines the formability of ABS materials and the mechanical properties, impact strength and temperature resistance, UV resistance and other properties of PC. It can be widely used in automotive internal parts, various machines, communications equipment, home appliances and lighting equipment.
Automotive interior and exterior decoration: instrument panel, trim post, instrument front cover, grille, inside and outside ornaments
Commercial equipment housing and built-in components: notebook / desktop computers, photocopiers, printers, plotters, monitors
Telecommunications, mobile phone housings, accessories, and smart cards (SIM cards):
Electrical products: electronic housing, meter housings and housings, household switches, plugs and sockets, cables, wires and pipes
Household appliances: washing machines, hairdryer, internal and external parts of microwave ovens
Technological conditions of PC/ABS injection Mould:
Drying must be done before processing. The humidity should be less than 0.04%. It is suggested that the drying conditions should be 90-110 ℃ for 2- 4 h.
The melting temperature is 230 ℃ and 300 ℃;
Mold temperature: 50 ℃ 100 ℃.
Injection pressure varies according to plastic parts.
The injection rate should be as high as possible.
Chemical and physical properties: PC/ABS has a combination characters of PC and ABS. For example, the easy processing properties of ABS and the excellent mechanical properties and thermal stability of PC. The ratio of the two materials will affect the thermal stability of PC/ABS materials. PC / ABS blends also show excellent fluidity. The shrinkage rate is about 0.5%.