Comparison of Advantages and Disadvantages of Color Powder and Color Masterbatch
Views:166 Author:Vera Publish Time: 2017-06-15 Origin:Site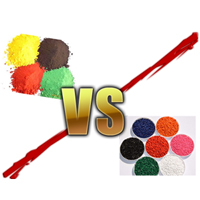 Comparison of Advantages and Disadvantages of Color Powder and Color Masterbatch
Color Powder
Advantages:
Cheap and affordable.
Quick proofing, fast production, complete the desired color in short time.
Easy to transport.
Suitable for products of low quantity but large variety.
Disadvantages:
Heavy pollution whille mixing, and it is not easy to clean the mixing bucket.
Different raw materials, different brands of batch number, different operating conditions, different temperature... will cause color difference.
Poor dispersion.
Color masterbatch
Advantages:
Color is more stable.
No pollution for environment.
Moderate price, less inventory.
Better dispersion.
Suitable for central feeding system, long-term orders.
Disadvantages:
Must have a certain amout of production. Usually the MOQ of color masterbatch is 25kg, and add proportion of 2%-4%.
Must be distributed evenly to prevent static electricity, otherwise it will cause color difference.

Haisi Extrusion provides high quality color masterbatch making granulator.
If you have any interest, please feel free to contact us!